Recently I took a new position shooting video and photography for an aeronautical university, so I knew I'd be doing a lot of shooting on locations, sometimes remote and travel was on the itinerary, so I had to figure out how to bring it all.
So I took a chance on the Tilopa BC, the second largest of six packs they make in the Mountain Series and it's everything I hoped it would be. For the work that I do, adaptability and versatility is crucial when it comes to shooting situations and I demand the same from my gear. The F-Stop Tilopa was built for photographers that demand a lot.
As a photographer I am used to being patient and waiting for the right moments. But with that patience comes a penchant for the particular in the visual department. In other words, I have very refined tastes. I have bought and used many photo packs searching for the one that does it all. As with the rest of my gear, I want a photo bag to be functional and comfortable, durable and I want it to look cool too. No shooter wants a bag to scream, "I'm a photo nerd and I have thousands of dollars of equipment in here". I first found F-Stop when I was looking for an insert that I could put in my Triple Aught Design Litespeed and turn it into a photo bag. They make separate inserts called ICU (internal camera units) in many sizes.
Functionality: 
It's built well you can tell that the design is a result of years of trial, error and suggestion from disgruntled photographers. It's so intelligently designed that I don't know where to begin. The most important thing in a photo bag is how it carries your expensive gear. The ICU compartment, which is removable, is customizable and holds a significant amount of kit. I opted for the Large size ICU because it seemed to fit the pack best. Currently I carry a Canon 5D Mark3 body, a 16-35mm, 24-70mm, 70-200mm, two Canon speed lights, radio flash transmitter, batteries and other miscellaneous gear. I have a few more spaces for maybe a small fixed lens or teleconverters.
The ICU insert installs securely and is strapped in with small straps holding it in place. I bought the Tilopa BC instead of the smaller Loka because the Tilopa BC will hold a laptop. In today's world of the always evolving media landscape, one is sometimes forced to capture and disseminate on a deadline, so I occasionally have to bring my 15″ MacBook Pro with me on location.
Straps are comfortable and fully adjustable to manage medium to heavy loads and the pack fits like a regular trekker. With my load out full to the gills and a carbon fiber tripod with heavy video head, I was still comfortable. The waist strap has some MOLLE for configuring pouches which I haven't tried yet, but you have that option.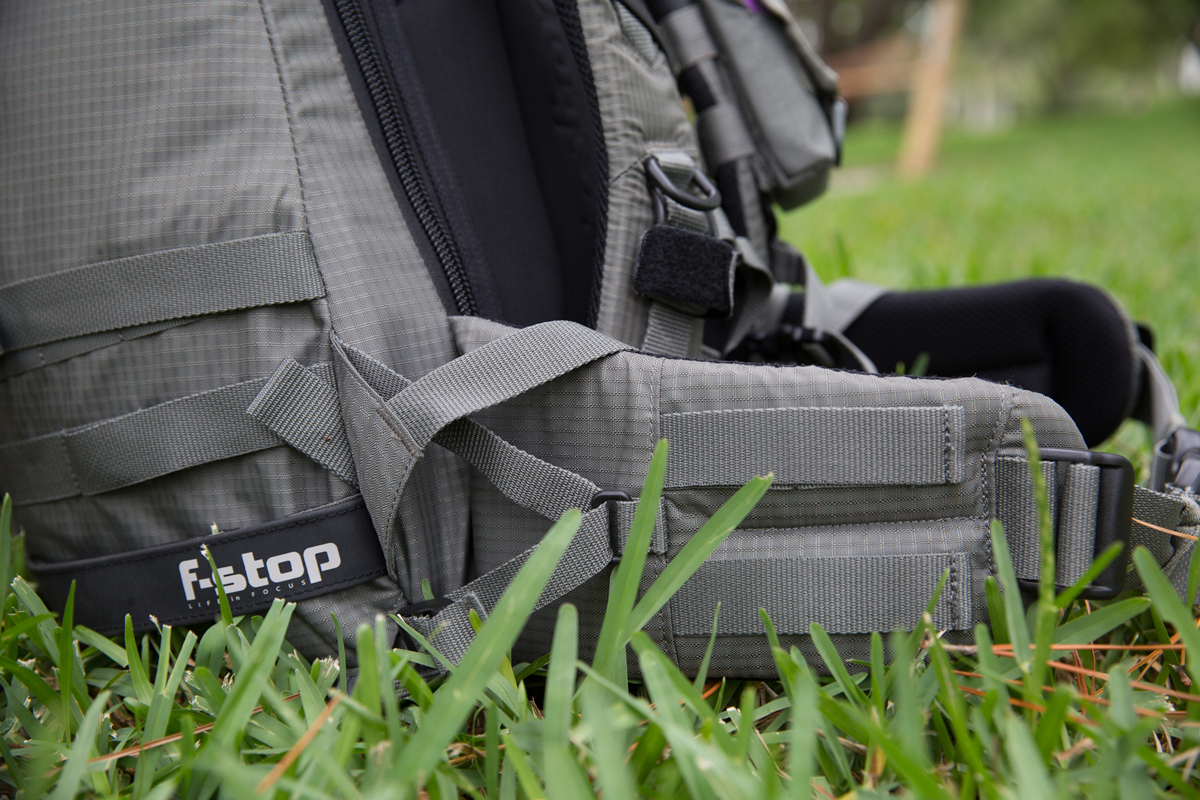 The Tilopa BC is full of pockets which for people that are always looking for a spot to carry every little thing, F-Stop has you covered. There are two compartments on the front zipper pouch. They are so well integrated that I forgot about one of them and was cursing all weekend when I could have sworn that I had lost an important cable. At the end of the shoot, I found the cable in the pocket. Know your gear!
The top zipper compartment is good for personal items and has an inner mesh zip pocket. there are more organizing pockets at the base of this compartment as well. This top area clamshells to access the top of the ICU or the inside of the photo compartment. This area is good for storing an extra jacket, your lunch or small items.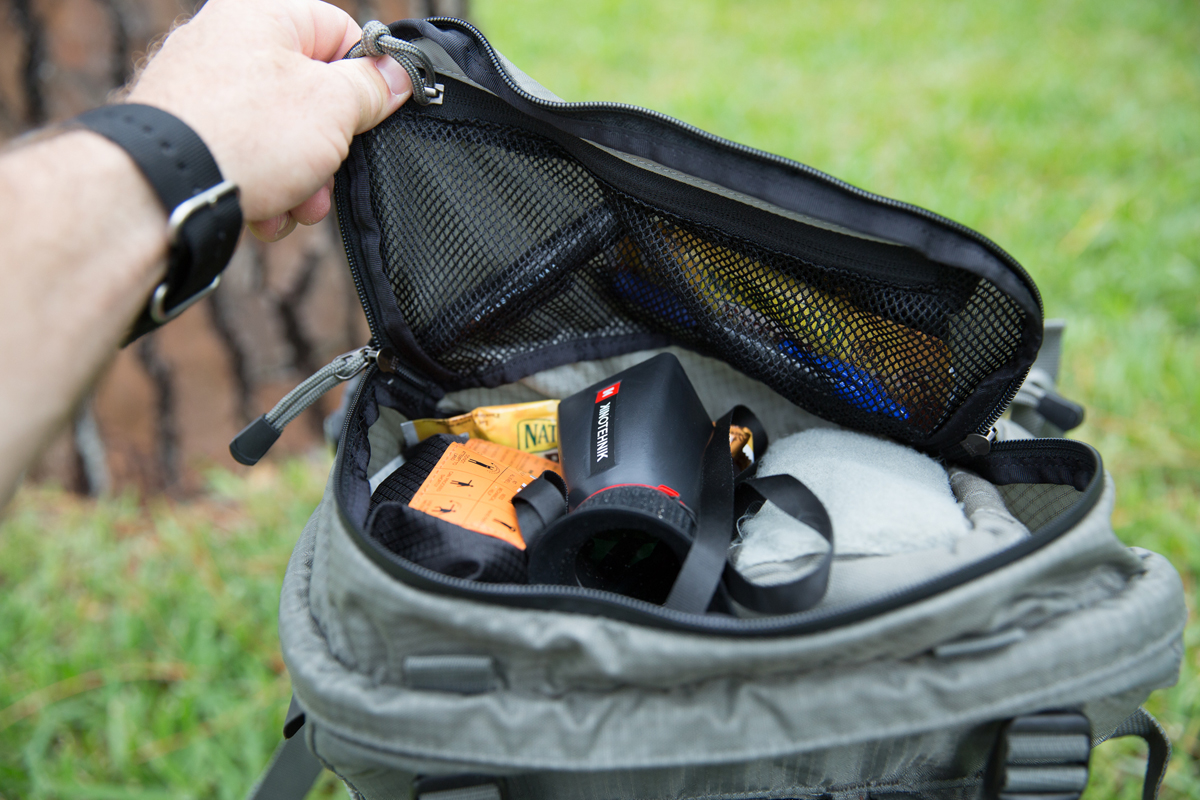 They have another tiny pocket for stashing secret items or using as a little pocket for trash that has "Pack it in, Pack it out" printed on the inside.
The Tilopa BC has a space for the laptop which is mysteriously positioned next to a pocket for your Hydration bladder, a head scratcher for sure. I don't know anyone that would put 3Liters of water near a $3000 laptop much less a small fortune in camera equipment but apparently F-Stop thought of that too. They offer a waterproof bag that goes around the bladder itself and into the pocket. I've never tried that option and probably never will, but a good pack is about options.
Other details worth noting are the small accoutrements like the sternum strap that has an integrated rescue whistle, hook and loop secure straps and elastic webbing for things like hydration tubes are a nice touch. I added my own Triple Aught Design iComm pouch for small quick access items.
Durability:
The bag is made of the 330D double ripstop Nylon gives the material a different look but it is still quite pleasing to the eye. I haven't been in a downpour with it yet, but F-Stop has covered the bag in DWR so it should be resistant to a slight drizzle. F-Stop offers a rain fly that you can purchase separately and it deploys from a separate pocket from the bottom of the bag.
Looks:
I love the look of this pack because it's unassuming of a photo bag and unless you knew the brand, you wouldn't know that there it's owner was transporting a life savings of video or photo gear. I opted for the Foliage color, because I am a fan of all things tactical and it's a very mellow color. It's true Foliage and it matches Foliage pouches from Triple Aught Design perfectly. F-Stop makes this pack in black and a hideous "Malibu Blue".
With the large size ICU included, the $450 price tag seems steep but when it comes to the amount of money you spent to get you to this point, it's a drop in the bucket, or a mere pixel on a picture.
For safely and securely transporting your gear the F-Stop Tilopa BC is right on point. When it comes to buying lenses, I spare no expense, because you want the best gear to capture the best image. When it comes to getting to your location to shoot that image, carry your glass and your gear in the best bag. When you have to travel from Jacksonville, Fla. to DC to NYC and back to Jacksonville in less than 48 hours by train plane and automobile, you will want a smart and comfortable photo pack.
David Massey Senior Contributor & Recon Specialist
David Massey is from the USA and works full time as a MultiMedia Producer, Photojournalist and writer, creating imagery for an aeronautical university and shooting freelance assignments wherever they may be. He's traveled to Africa, Asia, Europe and Central America in search of a good story. More…